Learn More About Our NJ BMW Dealer in Mount Laurel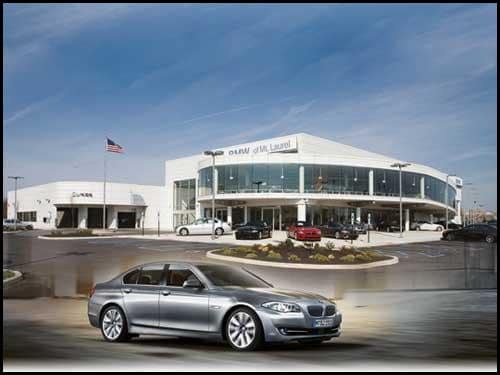 BMW of Mount Laurel in Mount Laurel, New Jersey, is a member of the Holman Automotive Group.
Located on Route 73 in Mount Laurel, New Jersey, we sell, service and finance new and used BMWs. As the largest volume BMW dealership in the Philadelphia area, we'll ensure you find the perfect BMW vehicle for you. We have over 400 BMW's in stock, and our experienced professionals have sold over 6,000 BMW's in the last 3 years!  And if you're looking for a used vehicle, we stock a wide range of other used cars that bear the BMW of Mt. Laurel name and meet our high standards for quality. Our team of knowledgeable and skilled technicians, sales people and service representatives all believe in providing honorable service to meet the needs of every customer.
Our New Jersey BMW dealer is a brand new state of the art facility, and has been recognized by BMW of North America as a model dealer. Purchasing or leasing a BMW at our BMW dealer in NJ is an enjoyable experience because the professional team understands that your time is precious. For a hassle free car-buying experience and support long after you drive off the lot, it's got to be BMW of Mt. Laurel.
Our New Jersey BMW dealer was acquired by Holman Automotive Group in 2007. Holman Automotive Group has been going strong since 1924 and consists of over 25 operating companies including dealerships, two local leasing companies, a parts distributorship, a truck up-fitting business, and the largest privately owned fleet leasing company in the country.
Learn more about the team at BMW of Mt. Laurel and its rich historical roots:
Learn More About BMW of Mount Laurel
Proudly Serving Drivers Like You, from Mount Laurel to Cherry Hill, Philadelphia, Voorhees Township, and Evesham Township, And Everywhere in Between
If you're in the market for a new or used car, you've come to the right place. The staff at BMW of Mount Laurel is committed to helping you find the right vehicle for your needs. What's more, they're also  dedicated to helping you maintain it long after you drive it home for the first time.
So where do we begin? Most like to take a look at the latest BMW models to hit our showroom, including the BMW 3 Series, 4 Series, X6, 5 Series and X1.
Those looking to keep some of that hard-earned money in their pockets, meanwhile, like to consider our lineup used cars as well.
Of course, whether you choose new or used, BMW of Mount Laurel staffs a team of expert auto finance specialists who can help you find the right loan or lease for your needs. From start to finish, we're by your side to make the buying process as easy as possible.
And after you've purchased your next vehicle, BMW of Mount Laurel doesn't go anywhere. Instead, we continue to support you with an onsite BMW car service department, which operates using only certified BMW parts - a combination that's sure to result in many worry-free miles in your vehicle's future.
Whatever your automotive needs may be, BMW of Mt. Laurel is here to serve you. Located at 1220 Route 73 in Mount Laurel, New Jersey, we're a quick drive away from the surrounding Cherry Hill, Philadelphia, Voorhees Township, and Evesham Township areas. Come see what we can do for you today.

From our Family to Yours



The Holman organization recently asked employees to help define the unique culture that exists throughout the company. The response was overwhelming...nearly 1,000 submissions in all different forms from Holman dealerships, Steward Financial Services, ARI, Holman Parts Distribution, and Auto Truck Group. We created a video based on our people's thoughts to share with our customers what it's like to be part of the Holman family of businesses!